Carolina Fernandez is an author, artist, and advisor.
Earning an M.B.A. in the early 1980's paved her initial passage into corporate America, where she worked at IBM before joining an investment bank and then Merrill Lynch as a Financial Advisor. Cutting her teeth in the fiercely competitive world of financial services, she built a practice of nearly 700 accounts before taking a hiatus to work as a full-time wife, mother, and homemaker.
Coming home to longer hours, harder work, and more demanding relationships left her feeling completely overwhelmed. Granted, she traded one investment field for another which has yielded immeasurable returns heretofore unimagined. Nonetheless, her frustration at her lack of ability in tackling all of motherhood's inherently difficult challenges pushed her into a twenty year labor of love. Her research in child development, child psychology, social psychology, nutrition, and exercise physiology-along with indispensable insights and experiences gained along the way through a decade of homeschooling-finally evolved into her first book, ROCKET MOM! A wide variety of writing venues and a seminar business followed. She is the founder of the ROCKET MOM SOCIETY, a mom's club which seeks to "equip, encourage and empower moms to excellence." She also started the cottage business, Carolina Fernandez Custom-Designed Handpainted Children's Clothing, which was sold through major marts throughout the country and which she operated for sixteen years.
During her years at home, she completely re-invented herself. She has dabbled in the domestic, visual, and performing arts, undertaking projects ranging from hooking rugs to painting in oils to singing onstage in Carnegie Hall. During that time, she renovated eight homes-with five such homes within five years. Those experiences led her to develop strong convictions about the role of the arts in child development, as well as the importance of instilling beauty into our everyday home and work environments
She has wholeheartedly embraced the twin concepts of creativity and generativity. Her life mission is: "raising families to greatness by investing resources of time and talent, and challenging others to develop their unique gifts for the benefit of others." She shared this unapologetically optimistic view of life on a national platform through a weekly Ezine via www.rocketmom.com, publishing and syndicating more than one hundred articles with readers across the globe and in various feature stories, articles and anthologies. She has been quoted in dozens of internet sites, blogs, newspapers, and in major publications such as Parenting, Redbook and Woman's Day Magazines. She has appeared as a guest on the FOX News program "Your World with Neil Cavuto" and on radio programs in major national markets.
She has taken her more than twenty years of experience-along with her creativity, keen eye and extraordinary design insight-to this latest foray into the market with COUNTRY FRENCH KITCHENS. The book was fueled by both her desire to complete a down-to-the-studs renovation in her own home and her frustration at the lack of resources in the marketplace to help her do just that, along with the desire to pass along the knowledge and design insights gained during the journey. Readers and homeowners everywhere have embraced the warmth, charm and eternally endearing style of Country French, and have propelled COUNTRY FRENCH KITCHENS to Amazon's Bestseller lists since its posting. She is currently engaged in a book tour where she shares the insights gained by working with the twenty-six homeowners featured in the book, as well as her research and personal entrenchment in the subject, recently completing the installation of her own authentic Country French kitchen. Her new kitchen is featured on the cover of Connecticut Homes & Gardens (Fall 2008). She also uses the book as a vehicle for philanthropy, hosting charity dinners in her home-serving French food and wine-along with an author talk and personal tour of her kitchen, using proceeds to fund various non-profit organizations.

By day, she is back at work as a Financial Advisor and Financial Planning Specialist for a major international investment bank, where she serves a niche clientele of Art and Design Professionals.
She serves on the Board of the Ridgefield Symphony Orchestra, and is an appointed member of the Ridgefield Arts Council. She is an active member of the Aldrich Museum of Contemporary Art, the Ridgefield Guild of Artists and the Keeler Tavern Museum. She is the Connecticut State President of Eagle Forum and received the prestigious Eagle Award in 2005. She was awarded the distinction of Kentucky Colonel.
Carolina is a Commissioned Certified Advanced Lay Speaker of the United Methodist Church. She serves on the Professional Advisory Board of the Fairfield County Community Foundation. She is also an active member of the Home Builders and Remodelers Association and the National Kitchen and Bath Association.
Married for twenty-six years, she and her husband are the parents of four children, Nick (21--Wake Forest University), Ben (18--United States Naval Academy), Cristina (16) and Victor (14). They live in Ridgefield, Connecticut, approximately 55 miles from New York City.
Media contacts: Donnetta Campbell at 203.434.3548 or email; donnettacc@yahoo.com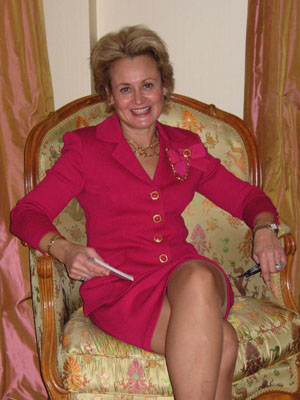 Country French Kitchens
Order the Book at Amazon