Bring the Warmth and Style of Country French to Your Home
Salt Lake City-February 2008-Today's kitchens serve purposes as varied and numerous as our family's personalities... yet require, from each of us, our earnest attempt at infusing joie de vivre-the art of living-into those human beings whose lives we are nurturing. And no style does this as well as that of French Country. For the French, throughout time, have recognized the value of nurturing: with nurturing meals and nurturing conversations; with loving preparations and loving presentations. And we desire to impart this into home, family and friends, regardless of how many miles across the pond we happen to live from authentic French culture.
Country French Kitchens by Carolina Fernandez (Gibbs Smith, Publisher, $29.95, February) inspires you how to incorporate organic beauty, local materials and simple but elegant charm, into the heart of the home-the kitchen. This book provides practical strategies for translating authentic Country French style into the kitchens of those living outside the boundaries of France, where farmhouses and rural simplicity generate the most prevalent sentiment for Country French ambiance.
Country French Kitchens explains the fundamentals and philosophy of country French style and how to translate it into your own kitchen. Captions describe products used and how each shot captures the style.
A detailed resource section provides contact information for designers, architects, builders, decorative artists, appliance manufacturers, and more. Chapters include Fundamentals, Style, Joie de Vivre , Texture, and Art and Antiques.
Carolina Fernandez's writing has appeared in over one hundred published articles and stories, both online and in print media as well as in her first book, Rocket Mom!, numerous anthologies, such as the million-plus bestselling "Chocolate Series" by Kay Allenbaugh. Her advice can be found in her weekly Rocket Mom! Newsletter, which is distributed to thousands of readers in all five continents; in magazine articles, like Parenting and Redbook; and through syndicated columns on the Internet.
Founded in 1969, Gibbs Smith, Publisher specializes in beautifully illustrated lifestyle books, with topics including design and architecture, cooking, business, holiday, sports, and children's books. Additional French design books from Gibbs Smith, Publisher include The French Connection and Inspirations from France & Italy.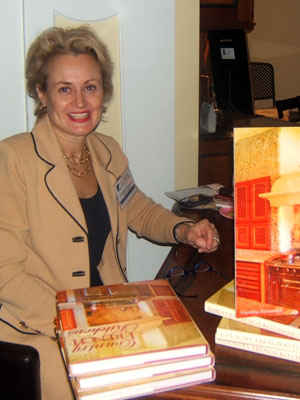 Country French Kitchens
Order the Book at Amazon